Feature:
Bluetooth wireless stereo music eye mask ----- It can connect to the mobile phone
which support Bluetooth or has Hands free Bluetooth protocol and other portable
devices which support AVRCP. Beforeusing stereo Bluetooth music eye mask to answer
the calls, please first finish the pairing of Bluetooth eye mask with Bluetooth
mobile phone or other Bluetooth device.

Instruction:
Long press the key for 3 seconds for switching on/off.
When powered on, it will pair with the latest paired bluetooth device
automatically. If it is the first time to be used, the auto-pairing mode will be
activated.
After pairing with the handheld device, you can short press to pause or play when
the music is being played. In calling status, you can short press to answer the
phone, long press to refuse and quickly double click to dial the latest coming
call.
When music is being played, short press the right key for the next song, long press
for volume up; Short press the left key for previous song and long press for volume
down.
Power supply: 200mA polymer battery inside the headband, PCB panel to provide
battery with protection to keep working while charging. (Red light shows charging
and turns off when fully charged.)

Function:
1.Music Player
2.call volume adjustment
3.make and answer calls
4.the use of mobile phone keypad dialing
5.number redial to the last phone call
6.To answer incoming calls
7.Hunging up the phone
8.Reject the phone call

Package Included:
1 x Bluetooth eye mask
1 x Charging Cable
( No Retail Package)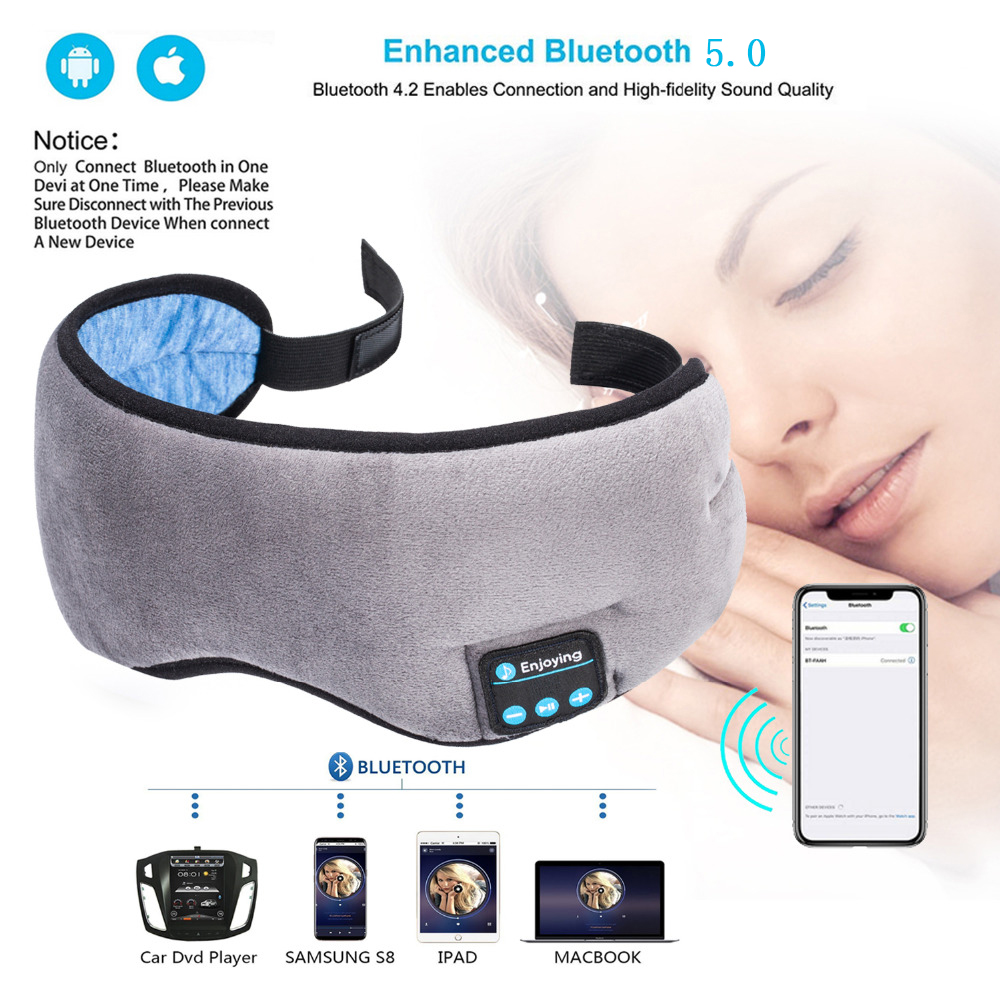 We have 100% FREE Worldwide Shipping. All Orders, No Minimum!
** Due to the current COVID-19 situation, possible affected countries may be experiencing a shipping delay by carriers and customs. 
Due to the high demand in our shop, it's likely that the normal delivery time might increase up to additional 10 more days in some cases.
Note: In some countries, delivery can be delayed by customs. We'll let you know.
We recommend that you keep an eye on your tracking.
If you have more than one item, its very likely you will receive them separately. Each item will have its own shipping code.
  Free Standard Shipping 
Domestic and International:
For our USA based customers, orders are fulfilled within 24 hours since payment is processed. Deliveries take on average 7 - 15 days excluding weekends. If your package is marked delivered by the USPS, and you do not receive the package, you will need to contact the local post office who has marked it delivered. We will not refund orders that are marked delivered.
For other international customers, orders are fulfilled within 24 hours since payment is processed. Deliveries take on average 10 - 18 days excluding weekends.
Delivery doesn't require signature.
- Fast Shipping - DHL : 
Orders are processed within 24 hours since payment is processed. Deliveries take on average 5 - 10 business days, weekends are not included.
Tracking Info: You will receive the tracking number and shipping status within 24 hours of your purchase. Weekends/holidays are not included.
Signature may be required at the time of delivery.
When will I receive tracking information:
For standard shipment, within a week of your order being fulfilled (shipped), you will receive notification of your tracking number.
If you do not receive your tracking number within 7 business days, please contact cs@cheapnotic.com
Please note we can't ship to armed forces (APO / FPO). 
Return Policy
ALL JEWELRY SALES ARE FINAL DUE TO HYGIENIC PURPOSES.
ALL COSMETICS sales are FINAL
ALL SALE MERCHANDISE IS FINAL SALE.  
We hope you love your purchase. If not, feel free to return it. Some items are eligible for return if they are:
un-worn, un-washed, un-altered and have the original tags still attached
received within 10 days to the date it was delivered or purchased
Buyer is responsible for returned shipping costs. We suggest getting tracking for the package, for we are not responsible for any lost in transit packages. There will also be a re-stocking fee on certain items.
We cannot guarantee we will be able to exchange your item because of limited availability. However, if we are able to, buyer is responsible for shipping both ways. 
Please make sure you check your order upon delivery. If you find any problems with your order, please contact us within 5 business days of it's arrival, or buyer assumes responsibility.