About shipping:
Masks are currently in short supply and take 7-10 days to process
Product Detail:

Name: Activated carbon protective mask Material: Mesh / Diving Fabric Packaging: Mask* 1
Filter *1
Please be kindly noted,the listed product is produced and distributed abroad and subject to the laws of its country of origin.

Description:
The mask can be used for more than 2 years, and the filter is recommended to be replaced every 30 days. The frequent or severe haze area is subject to the situation (the filter becomes black or damaged, please replace it in time, recommended once every 2-4 days)
About odor:
The material of the mask is made of diving cloth. A slight taste is normal. You can take out the filter first and soak it in warm water for 15 minutes. The taste will slowly disappear. The principle of activated carbon of the filter cannot be washed.
High Protective Mask
Let you calmly face complex environments
Defend Your Every Breath
Effectively filters fine particles and droplets from the air
Two-way Bilateral
Condensation Breathing Valve
Condensation fins close tightly during inspiration. The condensate sheet opens during exhalation. Reduce moisture condensation and improve comfort.
Built-in Filter | 5 layers of protection
Each layer intercepts different harmful substances
Masks can be combined with goggles for protection upgrade
(Goggles are for display only and need to be purchased separately)
Want to goggles, please click on the picture below to purchase
Hanging Ear Design | Elastic Strap
High-elastic straps and ear cord fits better on the face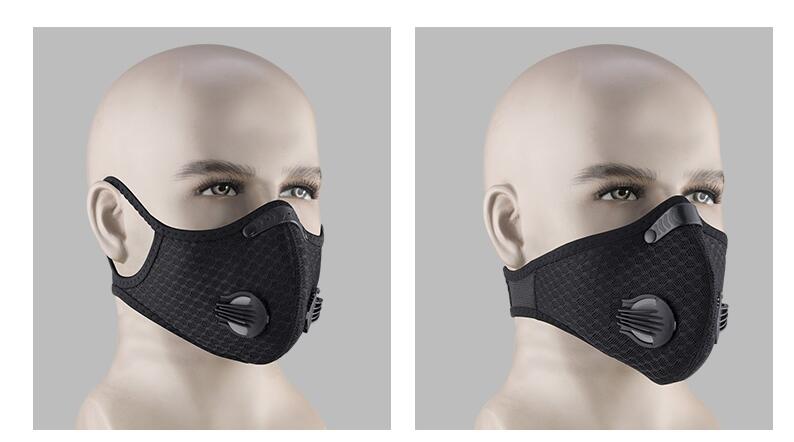 We have 100% FREE Worldwide Shipping. All Orders, No Minimum!
** Due to the current COVID-19 situation, possible affected countries may be experiencing a shipping delay by carriers and customs. 
Due to the high demand in our shop, it's likely that the normal delivery time might increase up to additional 10 more days in some cases.
Note: In some countries, delivery can be delayed by customs. We'll let you know.
We recommend that you keep an eye on your tracking.
If you have more than one item, its very likely you will receive them separately. Each item will have its own shipping code.
  Free Standard Shipping 
Domestic and International:
For our USA based customers, orders are fulfilled within 24 hours since payment is processed. Deliveries take on average 7 - 15 days excluding weekends. If your package is marked delivered by the USPS, and you do not receive the package, you will need to contact the local post office who has marked it delivered. We will not refund orders that are marked delivered.
For other international customers, orders are fulfilled within 24 hours since payment is processed. Deliveries take on average 10 - 18 days excluding weekends.
Delivery doesn't require signature.
- Fast Shipping - DHL : 
Orders are processed within 24 hours since payment is processed. Deliveries take on average 5 - 10 business days, weekends are not included.
Tracking Info: You will receive the tracking number and shipping status within 24 hours of your purchase. Weekends/holidays are not included.
Signature may be required at the time of delivery.
When will I receive tracking information:
For standard shipment, within a week of your order being fulfilled (shipped), you will receive notification of your tracking number.
If you do not receive your tracking number within 7 business days, please contact cs@cheapnotic.com
Please note we can't ship to armed forces (APO / FPO). 
Return Policy
ALL JEWELRY SALES ARE FINAL DUE TO HYGIENIC PURPOSES.
ALL COSMETICS sales are FINAL
ALL SALE MERCHANDISE IS FINAL SALE.  
We hope you love your purchase. If not, feel free to return it. Some items are eligible for return if they are:
un-worn, un-washed, un-altered and have the original tags still attached
received within 10 days to the date it was delivered or purchased
Buyer is responsible for returned shipping costs. We suggest getting tracking for the package, for we are not responsible for any lost in transit packages. There will also be a re-stocking fee on certain items.
We cannot guarantee we will be able to exchange your item because of limited availability. However, if we are able to, buyer is responsible for shipping both ways. 
Please make sure you check your order upon delivery. If you find any problems with your order, please contact us within 5 business days of it's arrival, or buyer assumes responsibility.